Anytime Union Taxi Cooperative drivers are here for wheelchair-bound passengers—and for each other
Anytime Union Taxi Cooperative is a worker-owned company working to create better working conditions for taxis drivers, while also filling a critical gap with a 100% wheelchair-accessible fleet of taxis.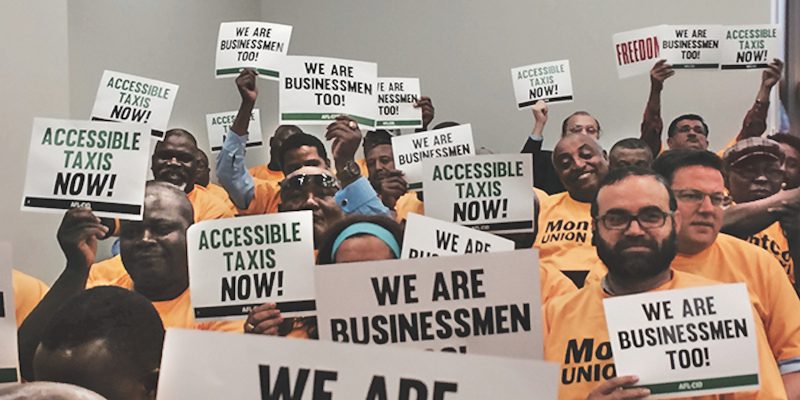 Anytime Union Taxi is the culmination of years of organizing. President and Co-Founder, Peter Ibik started organizing a drivers' union in 2005, as the predominantly immigrant drivers faced rising fees and vehicle rents from cab company owners. Eventually, he says, the drivers gave up trying to reform the companies and decided to build their own business. "(The taxi companies) don't want to change. True. And nobody can tell them how to run their business. True. So we'll form a cooperative. Then we decide together what we want."
Anytime boasts one of the only 100% wheelchair-accessible fleets in the US. This is a smart business decision, setting the new company apart and meeting an unmet need in an industry facing stiff competition from gig economy ride share companies. Montgomerty County Maryland is home to Walter Reed National Military Medical Center, the National Institutes of Health campus, and approximately 8,000 to 10,000 people who use wheelchairs.
The decision also reflects Peter's deep conviction to help those who have been left out. He recalls how in his first week of work as a taxi driver in 1998, he heard calls for a wheelchair-accessible cab go unanswered for hours because the fare was too small to entice any drivers. Eventually, he went to pick up the woman — even though his cab was not wheelchair-accessible. That afternoon, he convinced the company to allow him to train on an accessible vehicle.
After several years of hard work, organizing and planning, the Anytime team secured several grants and contracts from the county, and was able to get a loan from Shared Capital to finance their first six vehicles. "We went to several commercial banks – and credit unions, too – but we weren't able to get loans from any of them. Being a cooperative that serves cooperatives, Shared Capital looks out for cooperatives. It made it look like we are smart to have opened up a cooperative ourselves!"
Contact for Anytime Union Taxi:
Peter Ibik, President, Union Taxi Cooperative
702 East Gude Dr., Rockville, MD 20850
301-637-9292, info@anytimeuniontaxi.com