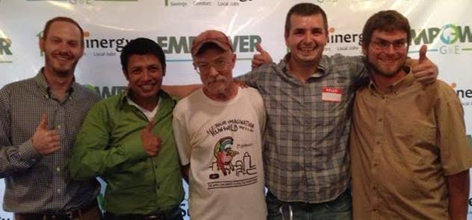 Sustainergy launched this year as one of many union worker cooperatives beginning to form around the country. Sustainergy is a worker-owned, residential contracting business that helps homeowners reduce their energy impact at low cost by providing free energy audits and retrofitting houses to make them more energy efficient and environmentally sustainable.
Sustainergy organized in early 2015 with the help of the Cincinnati Union Cooperative Initiative (CUCI), an incubator for Mondragon-style, worker-owned cooperatives. CUCI and Sustainergy worked closely to make Cincinnati a PACE (Property Assessed Clean Energy) district, granting them future access to PACE financing. Further engaging with the cooperative ethos, Sustainergy has gone on to partner with other local organizations and businesses to reach residents and strengthen networks within the local economic market.
Sustainergy cooperative ethos stems in part from the life experiences of one of its founders, Flequer Vera, whose combined passions for social justice, community organization, and business first led him to the cooperative model as a vehicle for social and economic empowerment. However, more practically speaking, Flequer noted, "The model is also simply good for business in that it enables workers to make sound business decisions on the job as part owners and motivates the formation of positive relationships with like-minded local suppliers and businesses."
With a $30,000 loan from Shared Capital Cooperative, Sustainergy was able to purchase a used truck and equipment to build their capacity. Flequer commented that, as capital tends to be the main obstacle in a business getting off the ground, the loan was an important step in helping Sustainergy launch its business and bring low cost energy efficiency upgrades to the Cincinnati area.